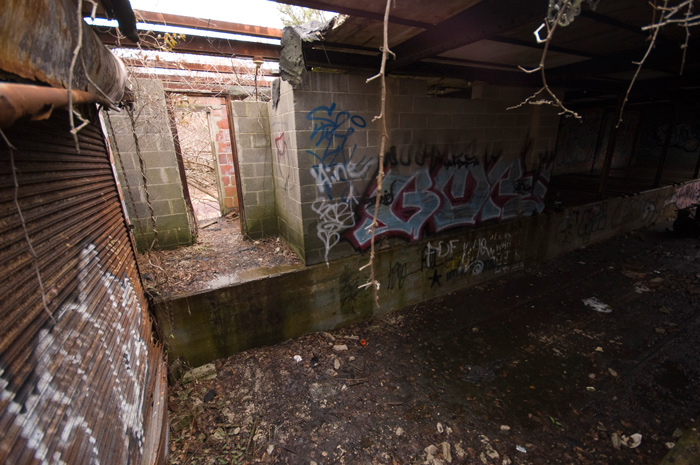 If you've come in late, this past Sunday I was out at Fort Tilden in the Rockaways. It's one of the forts which protected New York Harbor during World War II, and it had these huge cannons (batteries) which could go out to sea, and the combination of the batteries here along with batteries on Staten Island and New Jersey meant that any approaching enemy vessel would have been caught in the crossfire. These forts (along with Ellis Island, the Statue of Liberty, and much less well known Floyd Bennett Field) are part of the Gateway National Park area, administered by the National Park Services.
Unlike the buildings on Fort Wadsworth (Staten Island), a number of Fort Tilden's buildings are abandoned and unprotected by fencing. Shots of Harris Battery are all over the Internet (and on the Fort Tilden Wikipedia page), but its interior is now securely fenced off. (On my last visit to Fort Tilden, a couple years ago, there were gaps you could squeeze through and go in just for the sake of going in, but it was really 'nothing to see here folks,' just crap from bored people.)
The big guns of Harris Battery were stocked with artillery stored in two shell magazines: essentially long shacks consisting of elevated loading platforms that could easily move artillery onto rail cars. There are rail tracks in each of the two shell magazines east of Harris Battery. Both of the magazines are on Range Road, and this the more western one. The shot from earlier in the week was from the one further east. Queens.
---
Me: Frank Lynch
Email:
frank dot lynch2 at verizon dot net