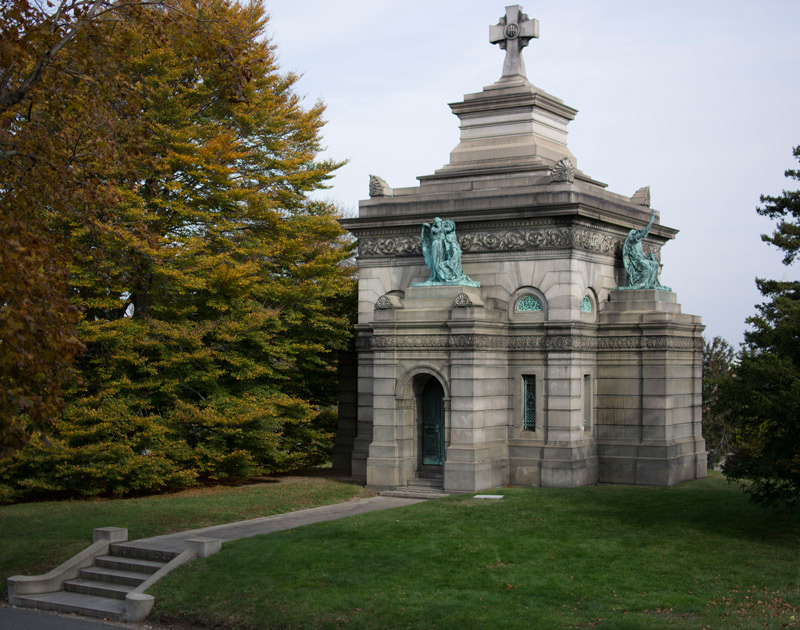 I think I've been to Green-Wood Cemetery 20 times. And when I go now, it's to rephotograph stuff lost on an old hard drive, or to shoot what I know differently. Or to take advantage of fall foliage, or spring cherry blossoms. I do not expect to see anything new. And then I happened on this. I bought a 35mm prime, and expected foliage, so I went to Green-Wood, but get a load of the size of this. I did not bring a wide-angle, this is a composite of six shots using the new 35mm; it wouldn't fit in a single frame, even across the road.
Scale this by noticing there's a door at the opening. One big enough for someone of my average height to walk through without stooping. So this mausoleum is almost three stories high.
It's the mausoleum of John William Mackay, who struck it rich in silver mining, and didn't stop there. You might want read the Wikipedia article linked at his name; he surely wasn't a Robert Owen, but he doesn't seem to have been a colossal jerk. (By the way, the mausoleum has room for 22. It's that big.) Green-Wood Cemetery, Brooklyn. And in Cemeteries of course.
blog comments powered by
---
Me: Frank Lynch
Email:
frank dot lynch2 at verizon dot net