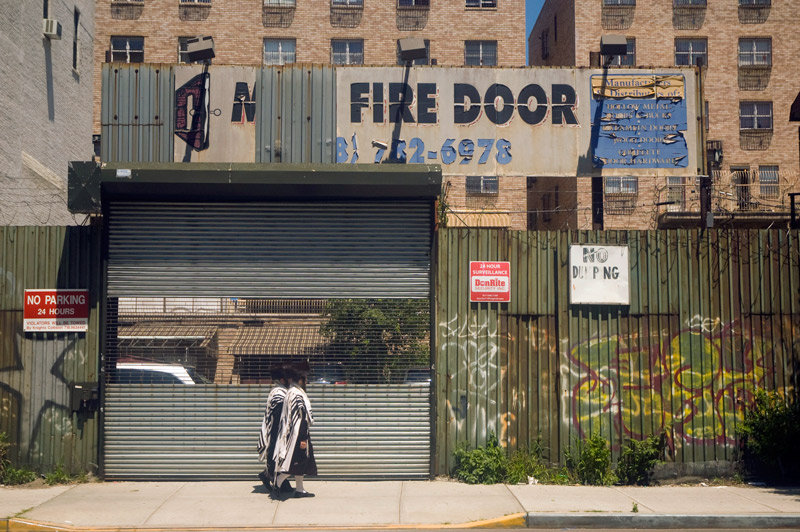 And now I reveal my self-consciousness in photography, and consideration of others. On Saturday I took a hike which my GPS logger put in at 7.7 miles; the intent was simply to walk through Prospect Heights, Crown Heights, Bed-Stuy, and Williamsburg. Late in the game I decided to walk across the Williamsburg Bridge into Chinatown for Saturday's fish. In some portions of Williamsburg ON A SATURDAY you're bound to encounter Hasidic Jews: dressed for synagogue. As in, you're going to be vastly outnumbered. And I was. On a previous expedition a guy told me that the locals don't like having their pictures taken because it makes them feel as if they're animals in a zoo, it has nothing to do with a fear of losing one's soul. So I kept my hands off the camera for the many blocks, no reason I should make anyone uncomfortable in their own hood. (Seriously, some proactively shielded their faces as I passed.)
But when you pass a huge piece of urban decay, any pedestrian will do to provide scale and context. Unfortunately in this part of town there wasn't anything but Hasidic Jews. So I took a photo. The only one I took in the entire neighborhood.
There's a guy on Flickr named Chris Arnade, who has done wonderful neighborhood-people studies, getting them to lower their guard. I think this is a project waiting to happen.
---
Me: Frank Lynch
Email:
frank dot lynch2 at verizon dot net