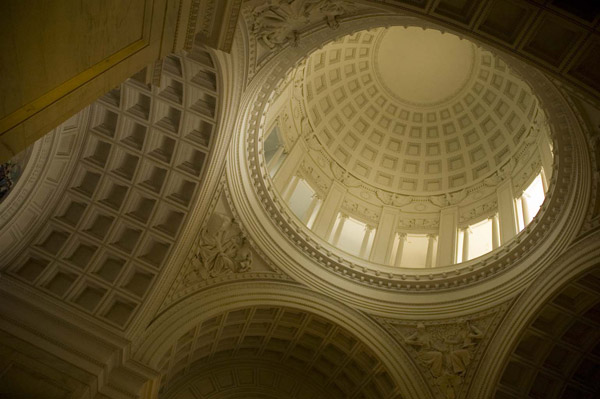 The dome inside Grant's Tomb (Morningside Heights). New York, New York. | Filed in Manhattan and Landmarks.
Sweetly, the reason he's interred in NYC is because he didn't want to be far from his wife; in his last years, they lived on Fifth Avenue. Another sweet aside: he wrote his memoirs to provide for her (according to the National Parks guide).
Here's another interesting factoid for you: the National Parks Web page for his burial site doesn't call him "President Grant" but "General Grant." (Look at the blue ribbon at the top of your browser.) Understandably, his reputation as a general eclipses his reputation as a President, but usually people refer to someone by the highest title they ascended to.
This weekend was the fourth annual "Open House New York," a weekend where hundreds of sites throughout the five boroughs opened themselves up to tourists and locals, sometimes allowing access to special spaces, but in every instance free. You can visit Grant's Tomb all but three days of the year, but it felt as if we had a special view when we went up to the dome: it was not pristine, and we had a sense of "behind the scenes." I hit eight places over Saturday and Sunday, so plan on seeing shots from them over the next couple weeks.
---
Me: Frank Lynch
Email:
frank dot lynch2 at verizon dot net