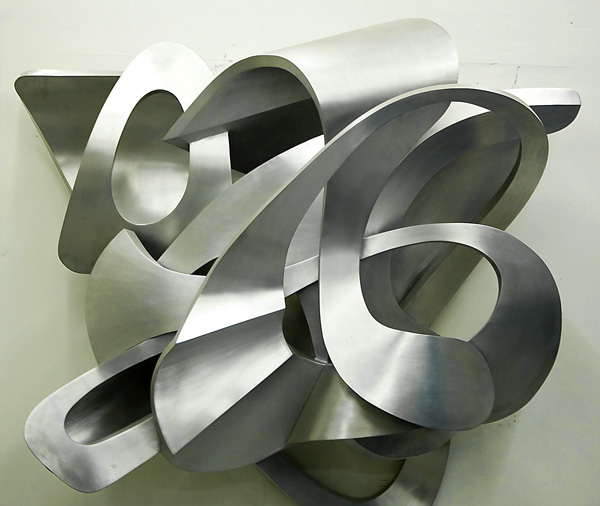 Transit, by Kevin Barrett. Copyright 2004 Kevin Barrett.
The need for a new kitchen faucet directed my photo hike down 19th Street in Brooklyn, the back way to Home Depot. Not altogether bad, that, as I've gotten a lot of great shots on this street: valves, loading docks, the Port Authority Grain Terminal, and so on. To my surprise, an open roll-door revealed the studio of sculptor Kevin Barrett. My jaw dropped over his intricate metal work: so smooth, so graceful, and yet having all the complexity I love in fire escapes and their shadows, or the music of Duke Ellington or Igor Stravinsky.
His stuff is a joy to behold, and if I'd had my flash attachment with me I'm sure I'd have tried to stay an hour in his studio. What was there was absolutely striking.
Kevin was also a very pleasant host: we talked about the advantages and disadvantages of working in Sunset Park versus DUMBO or Gowanus, and even about our mutual memories of Florida.
By the way, this is my 800th photo here. I tried to post something different... What can I do to top this come number 900?
---
Me: Frank Lynch
Email:
frank dot lynch2 at verizon dot net