Sunday, August 12, 2012
The absurd premise known as "Paul Ryan."
Mitt Romney's VP pick, Paul Ryan, is more of a concept than an actuality. Romney and the GOP tout Paul Ryan as a level-headed, smart, practical deficit cutter. But the real Paul Ryan is something completely different. And Romney and the GOP are counting on no one noticing the difference between the promise and the reality.
First, let's show you a chart they put up yesterday morning on MSNBC's Up With Chris Hayes: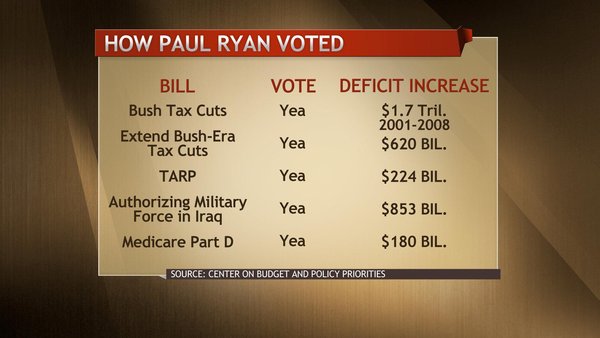 The chart is important because Ryan has been repeating the line that the deficit under Obama is unprecedented, conveniently ignoring all that Bush and Congressional Republicans did to dig the hole that we're in. (If you have time to watch the show's videos, you should. Rachel Maddow reminds of the issues associated with picking a Congressman for your ticket, with Congressional approval ratings at historic lows; as well as the ticket using a retired war ship as their backdrop -- something which the right would never let two non-serving Democrats get away with.)
In yesterday's speech in Norfolk, Ryan also took Obama to task for the "you didn't build it" line, repeating a Republican charge which has been shown, over and over, to misrepresent Obama's position. Yet at the same time, as Greg Sargent pointed out today, not only has Ryan's district improved as a result of federal spending, but Ryan has acknowledged that their fortune is not the result of an independent, libertarian movement. But in speeches, Ryan is going for the throat, playing the concept of a steely Republican.
A steely Republican will himself be caricatured. Guys in dark suits with wavy hair will be shown throwing wheelchair-bound grandmothers off a cliff. I somehow think Ryan will live up to the latter concept far sooner than he will to the former.
Home | | 7:35 PM
(DISCLOSURE: I work for Abt SRBI. My company does polling. My opinions should not be construed as representing those of my employer.)